Journal: Pages 63-64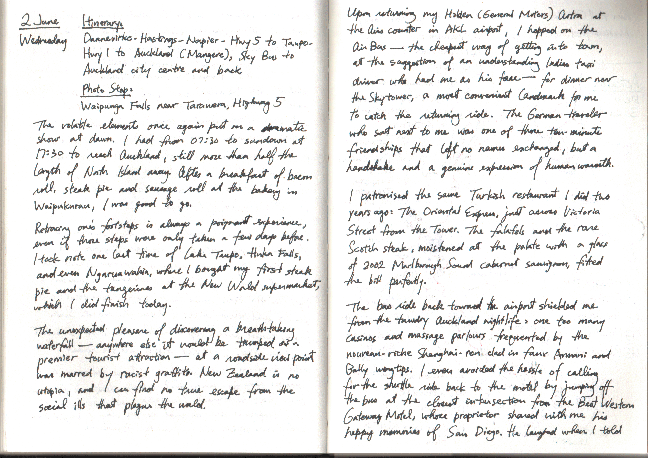 Wednesday 2 June 2004
Itinerary:
Dannevirke - Hastings - Napier - Hwy 5 to Taupo - Hwy 1 to Auckland (Mangere), Sky Bus to Auckland city centre and back
Photo stop:
Waipunga Falls near Tarawara, Highway 5
The volatile elements once again put on a dramatic show at dawn. I had from 7:30 to sundown at 5:30 to reach Auckland, still more than half the length of North Island away. After a breakfast of bacon roll, steak pie and sausage roll at bakery in Waipukurau, I was good to go.
Retracing one's footsteps is always a poignant experience, even if those steps were only taken a few days before. I took note one last time of Lake Taupo, Huka Falls, and even Ngaruawahia, where I bought my first steak pie and the tangerines at New World supermarket, which I did finish today.
The unexpected pleasure of discovering a breathtaking waterfall -- anywhere else it would be trumped as a premier tourist attraction -- at a roadside view point was marred by racist graffiti. New Zealand is no utopia, and I can find no true escape from the social ills that plague the world. [To learn more, read my 26 October '04 commentary The Great Race Row of New Zealand - Aotearoa.]

Upon returning my Holden (GM) Astra at the Avis counter in AKL airport, I hopped on the Air Bus -- the cheapest way of getting into town, at the suggestion of an understanding Indian taxi driver who had me as his fare -- for dinner bear the Skytower, a most convenient landmark for me to catch the returning ride. The German traveler who sat next to me was one of those ten-minute friendships that left no names exchanged, but a handshake and a genuine exchange of human warmth.

I patronized the same Turkish restaurant I did two years ago: The Oriental Express, just across Victoria Street from the Tower. The falafels and the rare steak, moistened at the palate with a glass of 2002 Marlborough Sound cabernet sauvignon, fitted the bill perfectly.
The bus ride back toward the airport shielded me from the tawdry Auckland nightlife: one too many casinos and massage parlours frequented by the nouveau-riche Shanghai-ren clad in faux Armani and Bally wingtips. I even avoided the hassle of calling for the shuttle ride back to the motel by jumping off the bus at the closest intersection from the Best Western Gateway Motel, whose proprietor shared with me his happy memories of San Diego. He laughed when I told
New Zealand (November 2004) 73-74 75-76 77-78 79-80 81-82