Journal: Pages 5-6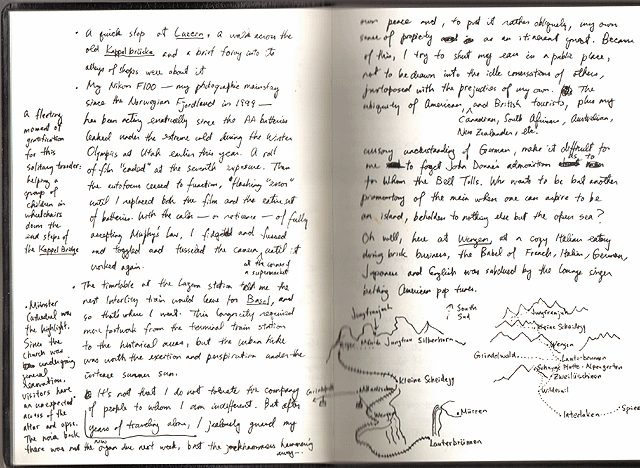 A quick stop at Luzern: a walk across the old Kappelbrücke [Chapel Bridge] and a brief foray into its alleys of shops were about it.
A fleeting moment of gratification for this solitary traveler: helping a group of children in wheelchairs down the end steps of the Kappel bridge.
| | | |
| --- | --- | --- |
| | | My Nikon F100 -- my photographic mainstay since the Norwegian Fjordland in 1999 -- has been acting erratically since the AA batteries leaked under the extreme cold during the Winter Olympics in Utah earlier this year. A roll of film "ended" at the seventh exposure. Then the auto-focus ceased to function, flashing "error" until I replaced both the film and the entire set of batteries. With the calm -- or reticence -- of fully accepting Murphy's Law, I fidgeted and fussed and toggled and tussled the camera at the corner of a supermarket until it worked again. |
The timetable at the Luzern station told me the next InterCity train would leave for Basel, and so that's where I went. This larger city required more footwork from the terminal train station to the historical areas, but the urban hike was worth the exertion and perspiration under the intense summer sun.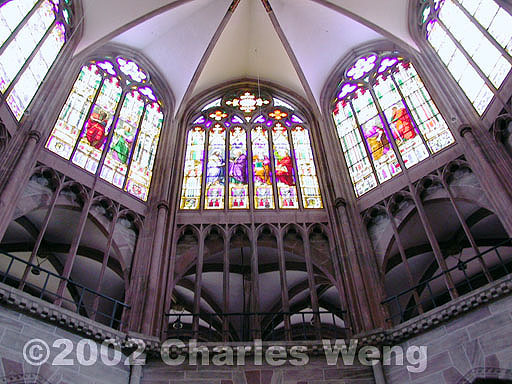 Münster Cathedral was the highlight. Since the church was undergoing general renovation, visitors have an unexpected access of the altar and the apse. The noise back there was not the new organ due next week, but the jackhammers hammering away.
It's not that I do not tolerate the company of people to whom I am indifferent. But after years of traveling alone, I jealously guard my own peace and, to put it rather obliquely, my own sense of propriety as an itinerant guest. Because of this, I try to shut my ears in a public place, not to be drawn into the idle conversations of others, juxtaposed with the prejudices of my own. The ubiquity of American, Canadian, South African, Australian, New Zealander and British tourists, plus my cursory understanding of German, make it difficult for me to forget John Donne's admonition as to For Whom the Bell Tolls. Who wants to be but another promontory of the main when one can aspire to be an island, beholden to nothing but the open sea? Oh well, here at Wengen, at a cozy Italian eatery doing brisk business, the Babel of French, Italian, German, Japanese and English was subdued by the lounge singer belting American pop tunes.
New Zealand (November 2004) 73-74 75-76 77-78 79-80 81-82