Journal: Pages 9-10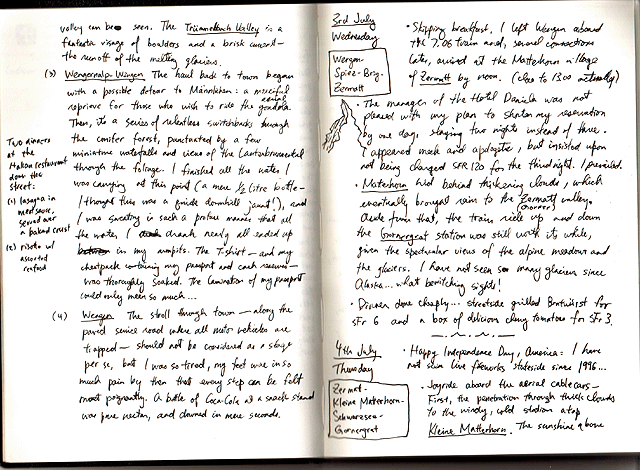 valley can be seen. The Trümmelbach Valley is a fantastic visage of boulders and a brisk current -- the runoff of the melting glaciers.
(3) Wengernalp-Wengen. The haul back to town began with a possible detour to Männlichen: a merciful reprieve for those who wish to ride the aerial gondola. Then, it's a series of relentless switchbacks through the conifer forest, punctuated by a few miniature waterfalls and views of the Lauterbrünnental through the foliage. I finished all the water I was carrying at this point (a mere 1/2 litre bottle -- I thought this was a quick downhill jaunt!), and I was sweating in such a profuse manner that all the water I drank nearly all ended up in my armpits. The T-shirt -- and my chest pack containing my passport and cash reserves -- were thoroughly soaked. The lamination of my passport could only mean so much...
| | | |
| --- | --- | --- |
| | | (4) Wengen. The stroll through town -- along the paved service road where all motor vehicles are trapped -- should not be considered as a stage per se, but I was so tired, my feet were in so much pain by then that every step can be felt most poignantly. A bottle of Coca-Cola at a snack stand was pure nectar, and downed in mere seconds. |
Two dinners at the Italian restaurant down the street: (1) lasagna in meat sauce, served over a baked crust, and (2) risotto with assorted seafood.
3rd July, Wednesday: Wengen - Spiez - Brig - Zermatt
Skipping breakfast, I left Wengen aboard the 7.06 train and, several connections later, arrived at the Matterhorn village of Zermatt by noon (close to 13.00 actually).
The manager of the Hotel Daniela was not pleased with my plan to shorten my reservation by one day, staying two nights instead of three. I appeared meek and apologetic, but insisted upon not being charged Sfr 120 for the third night. I prevailed.
Matterhorn hid behind thickening clouds, which eventually brought rain to the Zermatt (Gorner) valley. Aside from that, the train ride up and down the Gornergrat station was still worth its while, given the spectacular views of the alpine meadows and the glaciers. I have not seen so many glaciers since Alaska...what bewitching sights!

Dinner done cheaply...streetside grilled Bratwürst for Sfr 6 and a box of delicious cherry tomatoes for Sfr 3.
4th July, Thursday: Zermatt - Kleine Matterhorn - Schwarzsee - Gornergrat
Happy Independence Day, America: I have not seen live fireworks stateside since 1996...
* * * * *
Joyride aboard the aerial cable cars -- First, the penetration through thick clouds, to the windy, cold station atop Kleine Matterhorn. The sunshine above
New Zealand (November 2004) 73-74 75-76 77-78 79-80 81-82