Journal: Pages 17-18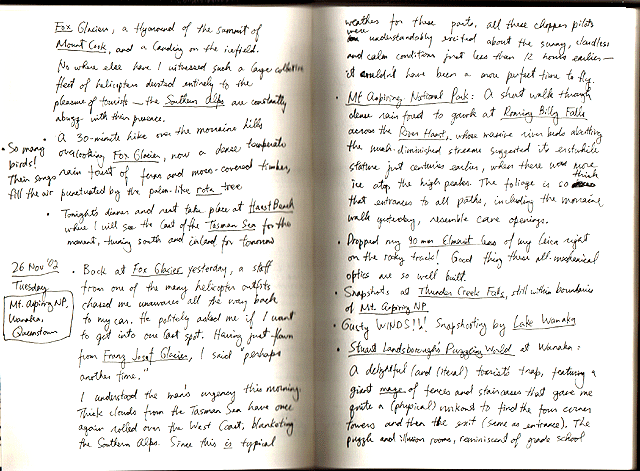 | | | |
| --- | --- | --- |
| | | Fox Glacier, a fly-around of the summit of Mount Cook, and a landing on the ice field. Nowhere else have I witnessed such a large collective fleet of helicopters devoted entirely to the pleasure of tourists -- the Southern Alps are constantly abuzz with their presence. |
A 30-minute hike over the moraine hills overlooking Fox Glacier, now a dense temperate rain forest of ferns and moss-covered timber, punctuated by the palm-like rota tree
So many birds! Their songs fill the air
Tonight's dinner and rest take place at Haast Beach, where I will see the last of the Tasman Sea for the moment, turning south and inland for tomorrow.
26 Nov '02, Tuesday: Mt Aspiring NP, Wanaka, Queenstown
Back at Fox Glacier yesterday, a staff from one of the many helicopter outfits chased me unawares all the way back to my car. He politely asked me if I want to get into one last spot. Having just flown from Franz Josef Glacier, I said "perhaps another time."
I understood the man's urgency this morning. Thick clouds from the Tasman Sea have once again rolled over the West Coast, blanketing the Southern Alps. Since this is typical weather for these parts, all these chopper pilots were understandably excited about the sunny, cloudless and calm conditions just less than 12 hours earlier -- it couldn't have been a more perfect time to fly.

Mt Aspiring National Park: A short walk through dense rain forest to gawk at Roaring Billy Falls across the River Haast, whose massive river beds abutting the much-diminished streams suggested its erstwhile stature just centuries earlier, when there was more ice atop the high peaks. The foliage is so thick that entrances to all paths, including the moraine walk yesterday, resemble cave openings.
Dropped my 90mm Elmarit lens of my Leica right on the rocky track! Good thing these all-mechanical optics are so well built.
Snapshots at Thunder Creek Falls, still within boundaries of Mt Aspiring NP
Gusty WINDS!!! Snap-shooting by Lake Wanaka
| | | |
| --- | --- | --- |
| | | Stuart Landsborough's Puzzling World at Wanaka: A delightful (and literal) tourist's trap, featuring a giant maze of fences and staircases that gave me quite a (physical) workout to find the four corner towers and then the exit (same as entrance). The puzzle and illusion rooms, reminiscent of grade school |
New Zealand (November 2004) 73-74 75-76 77-78 79-80 81-82