Journal: Pages 15-16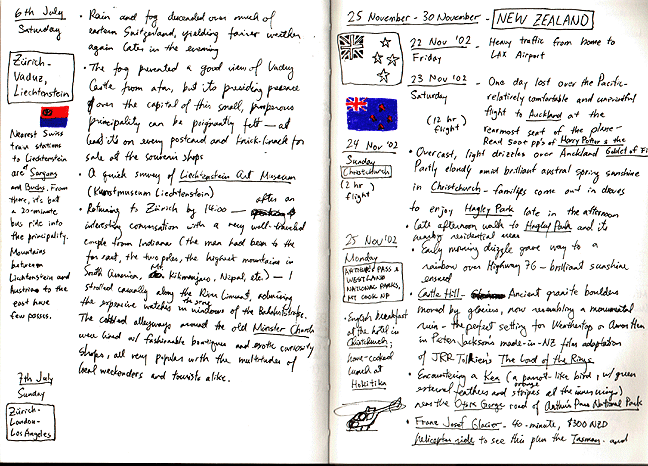 6th July, Saturday: Zürich - Vaduz, Liechtenstein
Rain and fog descended over much of eastern Switzerland, yielding fairer weather again later in the evening.
The fog prevented a good view of Vaduz Castle from afar, but its presiding presence over the capital of this small, prosperous principality can be poignantly felt -- at least it's on every postcard and knick-knack for sale at the souvenir shops.
A quick survey of Liechtenstein Art Museum (Kunstmuseum Liechtenstein)
Nearest Swiss train stations to Liechtenstein are at Sargon and Buchs. From there, it's but a 20-minute bus ride into the principality. Mountains between Liechtenstein and Austria to the east have few passes.
Returning to Zürich by 14:00 -- after an interesting conversation with a very well-traveled couple from Indiana (the man had been to the far east, the two poles, the highest mountains in South America, Mt Kilimanjaro, Nepal, etc.) -- I strolled casually along the River Limmat, admiring the expensive watches in the store windows of the Bahnhofstraße. The cobbled alleyways around the old Münster Church were lined with fashionable boutiques and exotic curiosity shops, all very popular with the multitudes of local weekenders and tourists alike.
7th July, Sunday: Zürich - London - Los Angeles
25th November - 30 November - NEW ZEALAND
22 Nov '02, Friday
Heavy traffic from home to LAX Airport
23 Nov '02, Saturday (12 hr flight)
One day lost over the Pacific -- relatively comfortable and uneventful flight to Auckland at the rearmost seat of the plane -- Read 500+ pages of Harry Potter and the Goblet of Fire.
24 Nov '02, Sunday: Christchurch (2 hr flight)

Overcast, light drizzles over Auckland; Partly cloudy amid brilliant austral spring sunshine in Christchurch -- families come out in droves to enjoy Hagley Park late in the afternoon

Late afternoon walk to Hagley Park and its nearby residential areas

25 Nov '02, Monday: Arthur's Pass, Westland and Mt Cook National Parks

Early morning drizzle gave way to a rainbow over Highway 76 -- brilliant sunshine ensued.

English breakfast at the hotel in Christchurch; home-cooked lunch at Hokitika

Castle Hill -- Ancient granite boulders moved by glaciers, now resembling a monumental ruin -- the perfect setting for Weathertop and Amon Hen in Peter Jackson's made-in-NZ film adaptation of JRR Tolkien's The Lord of the Rings.
Encountering a Kea (a parrot-like bird, with green external feathers and orange stripes at the inner wings) near the Otira Gorge road of Arthur's Pass National Park

Franz Josef Glacier: 40-minute, $300 NZD helicopter ride to see this plus the Tasman and
New Zealand (November 2004) 73-74 75-76 77-78 79-80 81-82