Baked cod, expertly done, back at the rorbuer restaurant in Mortsund for dinner, served by a lovely young German woman.
25 May 2003, Sunday: Mortsund - Stamsund - Fiskebøl - Melbu - Olderdalen

The quest for the North Cape, the apocryphal northernmost point of Europe, began at 03:45 from Mortsund, by which the sun was already bright as noon. I didn't leave the Lofoten islands immediately, however, but loitered around the islets littered between Stamsund and Steine, as well as revisiting Henningsvær, the ultimate fishing village for tourists.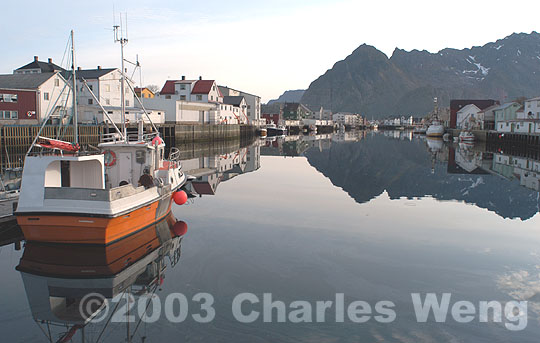 Bright sky veiled in white blanketed over the highlands of Troms and Finnmark, now in the midst of Spring thaw. Mountains now bear zebra stripes of melting snow until they get a new coat of mossy green for the summer.
Wildlife sighting: guillemot, red fox, marmot
The motor marathon took its toll as soon as I reached mainland; I had to pull over and take several short naps. Any lapse of concentration behind the wheel, even a slight drift of thought, was a perilous catalyst for unconsciousness.
The calm waters of the fjords reflect the mountains above, bringing the sky down below the horizon.