Journal: Pages 21-22
Now that New Zealand has become Tolkien's Middle-Earth, one cannot help evoking dwarven or elven images as a comparison is made between the roads of NZ and Norway. The Norwegians, like the dwarves in their Nordic-Teutonic myths, dug uncanny tunnels through their mountains. The Kiwis prefer the elven approach, building light, slender one-lane bridges that span almost ethereally over every chasm and stream.
27th November '02, Wednesday: Queenstown - Milford Sound, Fjordlands National Park
Breakfast: fruit juices and fresh kiwi fruits brought to the apartment earlier, heavy meat pies from the petrol station.
Te Anau: "tee-AH-now"
| | | |
| --- | --- | --- |
| | | From drizzles at Te Anau all the way to downpours towards Milford Sound: Much of the sublime glacial peaks is obscured, yet the voluminous precipitation is also generously feeding the countless waterfalls, creating an otherworldly impression of white veils over black granite and green moss. |
2 hour 45 min voyage
Rainy, choppy voyage to the Tasman Sea: The Mitre's Peak sailed effortlessly past majestic vertical precipices shrouded in fog. The rains have spawned waterfalls where there'd be none come summer, and fattened the established ones to dramatic proportions.
Leisurely drive past bucolic hills, studded with a yellowish bush and red tussock grass, back to Queenstown
Back at Fjordland National Park:
- Snapshots at Eglington Valley
- Walk to the water-carved chasm (20 min)
28th November '02, Thursday: Queenstown - Alexandra - Catlins - Dunedin
Snapshots at Roaring Meg Recreational Reserve (a bend in river Teviot at northern end of Queenstown Lake District)
Snapshots: River Teviot, just south of Roxburgh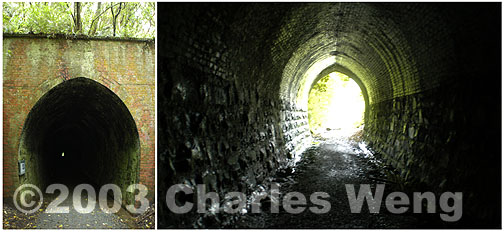 Tunnel Hill Memorial Walk: An old, unlit train tunnel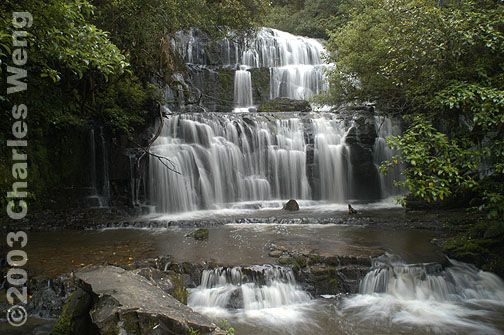 Purakaunui Falls, at Catlins Forest Park (near Owaka)
Verdant green pastures, rivaling those of Britain and Eire in their picturesque idyll

While shooting sheep, I lost a cushion strap for my camera bag -- spent 15 min foraging the curbs until I found it
Nugget Point Scientific Reserve (lighthouse, seal + bird viewing): Gibraltar-like promontory jutting handsomely into the South Pacific

My *@!# overpriced Leica binoculars failed -- its left barrel is breached and fogged over. I hope the warranty is good.
Quick drive up the Dunedin's Otago Peninsula, then back to town for my thanksgiving dinner at the bar (steak, bacon, sausage, potatoes and veggies -- not bad)
After-dinner walk to the centre ("Octagon") of Dunedin and back at hotel, just below the 1st Church
New Zealand (November 2004) 73-74 75-76 77-78 79-80 81-82