Journal: Pages 27-28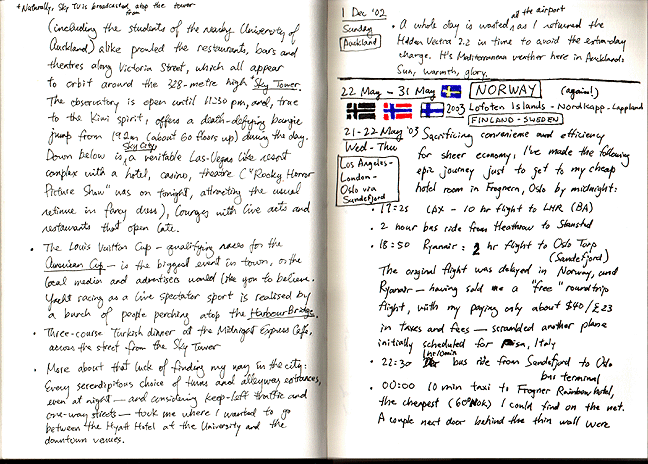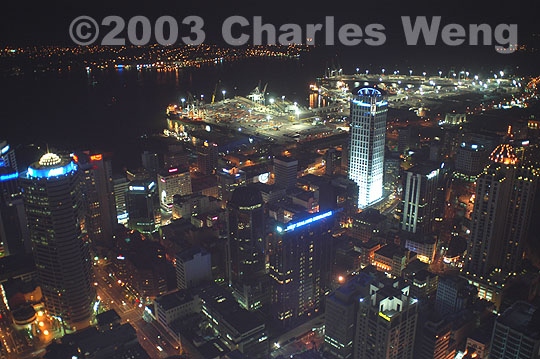 (including the students of the nearby University of Auckland) alike prowled the restaurants, bars and theatres along Victoria Street, which all appear to orbit around the 328-metre high Sky Tower. (Naturally, Sky TV is broadcasted from atop the tower.) The observatory is open until 11:30 pm and, true to the Kiwi spirit, offers a death-defying bungee jump from 192m (about 60 floors up) during the day. Down below is Sky City, a veritable Las-Vegas-like resort complex with a hotel, casino, theatre ("Rocky Horror Picture Show" was on tonight, attracting the usual retinue in fancy dress), lounges with live acts and restaurants that open late.
The Louis Vuitton Cup -- qualifying races for the American Cup -- is the biggest event in town, or the local media and advertisers would like you to believe. Yacht racing as a live spectator sport is realised by a bunch of people perching atop the Harbour Bridge.
Three-course Turkish dinner at the Midnight Express Cafe, across the street from the Sky Tower
More about that luck of finding my way in the city: Every serendipitous choice of turns and alleyway entrances, even at night -- and considering keep-left traffic and one-way streets -- took me where I wanted to go between the Hyatt Hotel at the University and the downtown venues.
1st December '02, Sunday: Auckland
A whole day is wasted at the airport as I returned the Holden Vectra 2.2 in time to avoid the extra-day charge. It's Mediterranean weather here in Auckland: Sun, warmth, glory.
22-31 May 2003: NORWAY (again!)
FINLAND - SWEDEN
Lofoten Islands - Nordkapp - Lappland
21-22 May 2003, Wednesday-Thursday: Los Angeles - London - Oslo via Sandefjord
Sacrificing convenience and efficiency for sheer economy, I've made the following epic journey just to get to my cheap hotel room in Frogner, Oslo by midnight:
- 17:25 LAX - 10 hr flight to LHR (BA)
- 2 hour bus ride from Heathrow to Stansted
- 18:50 Ryanair: 2 hr flight to Oslo Torp (Sandefjord)
The original flight was delayed in Norway, and Ryanair -- having sold me a "free" round trip flight, with my paying only about $40 / £23 in taxes and fees -- scrambled another plane initially scheduled for Pisa, Italy
- 22:30 1 hr 10 min bus ride from Sandefjord to Oslo bus terminal
- 00:00 10 min taxi to Frogner Rainbow Hotel, the cheapest (Kr 600) I could find on the net. A couple next door behind the thin wall were
New Zealand (November 2004) 73-74 75-76 77-78 79-80 81-82