Journal: Pages 67-68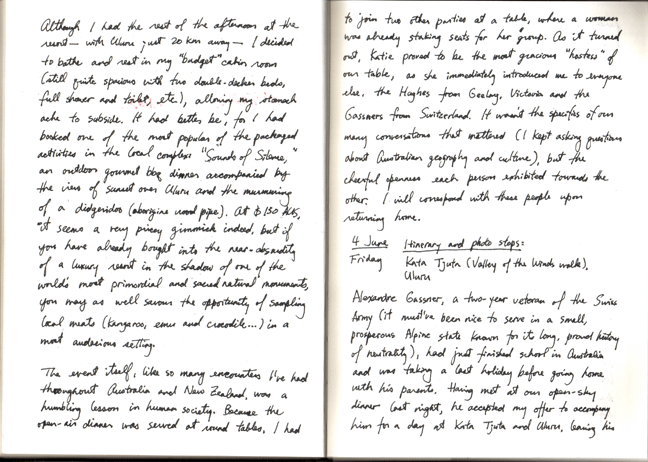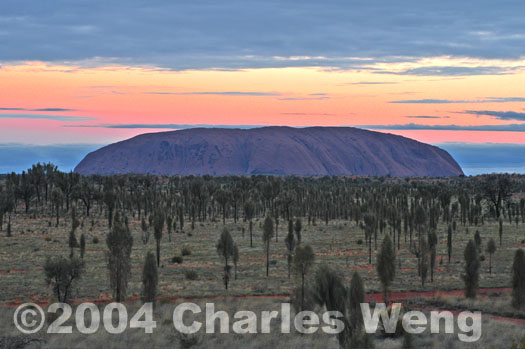 Although I had the rest of the afternoon at the resort -- with Uluru just 20km away -- I decided to bathe and rest in my quiet "budget" cabin room (still quite spacious with two double-decker beds, full shower and toilet, etc.), allowing my stomach ache to subside. It had better be, for I had booked one of the most popular of the packaged activities in the local complex: "Sound of Silence," an outdoor gourmet bbq dinner accompanied by the view of sunset over Uluru and the murmuring of a didgeridoo (aborigine wood pipe).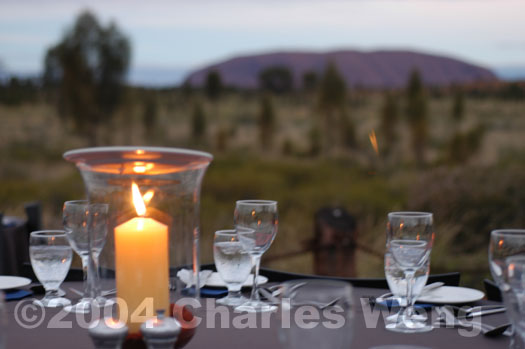 At $130 AUS, it seems a very pricey gimmick indeed, but if you have already bought into the near-absurdity of a luxury resort in the shadow of one of the world's most primordial and sacred natural monuments, you may as well savour the opportunity of sampling local meats (kangaroo, emu and crocodile...) in a most audacious setting.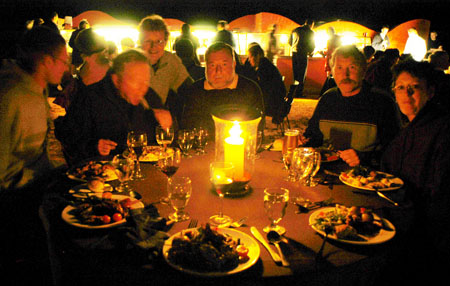 The event itself, like so many encounters I've had throughout Australia and New Zealand, was a humbling lesson in human society. Because the open-air dinner was served at round tables, I had to join two other parties at a table, where a woman was already staking seats for her group. As it turned out, Katie proved to be the most gracious "hostess" of our table, as she immediately introduced me to everyone else, the Hughes from Geelong, Victoria and the Gassners from Switzerland. It wasn't the specific details of our many conversations that mattered (I kept asking questions about Australian geography and culture just to maintain the dialogue), but the cheerful openness each person exhibited towards the other. I will correspond with these people upon returning home.

Friday 4 June 2004

Itinerary and Photo Stops:

Kata Tjuta, Uluru

Alexandre Gassner, a two-year veteran of the Swiss Army (it must've been nice to serve in a prosperous Alpine state known for its long, proud history of neutrality), had just finished school in Australia and was taking a last holiday before going home with his parents. Having met at our open-sky dinner last night, he accepted my offer to accompany me for a day at Kata Tjuta and Uluru, leaving his

New Zealand (November 2004) 73-74 75-76 77-78 79-80 81-82