Reaching Skáidi, where the road branches to either Hammerfest or Honningsvåg, by 15:00, I checked in the same crossroad hospitality center I bought a hot dog two years ago. (Its rooms are spacious, comfortable, equipped with a fully-furbished kitchenette and cheaper than any hotel in Norway.) I napped soundly, intending to reach Nordkapp later for the ritual viewing of the midnight sun. Alas, the weather and my strength did not cooperate, and I stayed in for the rest of the rainy night to have my dinner of pickled herring, lox, chorizo and tomatoes.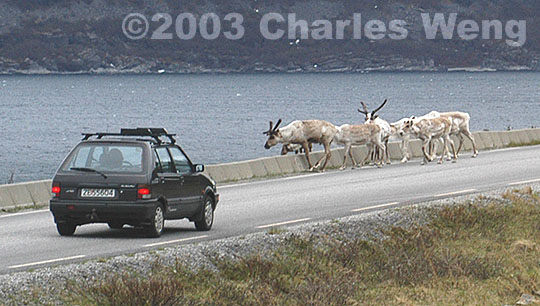 27 May 2003, Tuesday: Skáidi - Nordkapp - Honningsvåg - Alta - Kautokeino
The lonely drive along the bleak coast of the Porsanger peninsula to Honningsvåg would have lost all its stark majesty had it been crawling with queues of coaches and campers, as it will be in a week or so. Granite rocks break off in many thin layers, like pages of ancient tomes.
It was just as well that no one was around -- and the overpriced visitor center would not be open until two hours later at 10:00. I just had to urinate at the northern tip of Europe (just a little further north than the geographical marker)...For once, I was grateful for the rain and wind to wash away my transgression.
A roadside nap, another grocery run at Alta, and I was ready to cross the Taiga forest of Finnmark towards Kautokeino. There, I checked into its only hotel, only to find the Kr 1200 room did not even have a fridge. I quickly asked the front desk to cancel the charge on my credit card, and drove a little further south along the Guuovdageaineatnu river to a campground. The premise was run by a very friendly family of three generations (their children