Journal: Pages 71-72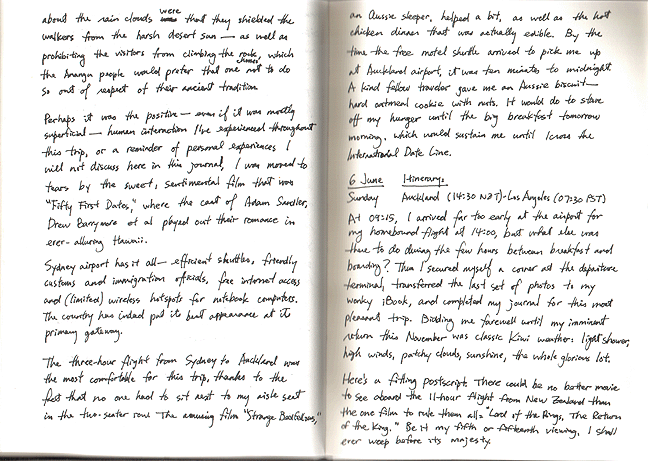 about the rain clouds were that they shielded the walkers from the harsh desert sun -- as well as prohibiting the visitors from climbing the rock, which the Anangu people would prefer that one not to do so out of respect of their ancient tradition.
Perhaps it was the positive -- even if it was mostly superficial -- human interaction I've experienced throughout this trip, or a reminder of personal experiences I will not discuss here in this journal, I was moved to tears by the sweet, sentimental film that was "Fifty First Dates," where the cast of Adam Sandler, Drew Barrymore et al played out their romance in ever-alluring Hawaii.
Sydney Airport has it all -- efficient shuttles, friendly customs and immigration officials, free internet access and (limited) wireless hotspots for notebook computers. The country has indeed put its best appearance at its primary gateway.
The three-hour flight from Sydney to Auckland was the most comfortable for this trip, thanks to the fact that no one had to sit next to my aisle seat in the two-seater row. The amusing film "Strange Bedfellows," an Aussie sleeper, helped a bit, as well as the hot chicken dinner that was actually edible. By the time the free motel shuttle arrived to pick me up at Auckland airport, it was ten minutes to midnight. A kind fellow traveler gave me an Aussie biscuit -- hard oatmeal cookie with nuts. It would do to stave off my hunger until the big breakfast tomorrow morning, which would sustain me until I cross the International Date Line.
6 June 2004, Sunday
Itinerary: Auckland (14:30 NZT) - Los Angeles (07:30 PST)
At 09:15, I arrived far too early at the airport for my homebound flight at 14:00, but what else was there to do during the few hours between breakfast and boarding? Thus I secured myself a corner at the departure terminal, transferred the last set of photos to my wonky iBook, and completed my journal for this most pleasant trip. Bidding me farewell until my imminent return this November was classic Kiwi weather: light shower, high winds, patchy clouds, sunshine, the whole glorious lot.
Here's a fitting postscript. There could be no better movie to see aboard the 11-hour flight from New Zealand than the one film to rule them all: "Lord of the Rings: The Return of the King." Be it my fifth or fifteenth viewing, I shall ever weep before its majesty.
New Zealand (November 2004) 73-74 75-76 77-78 79-80 81-82