Journal: Pages 55-56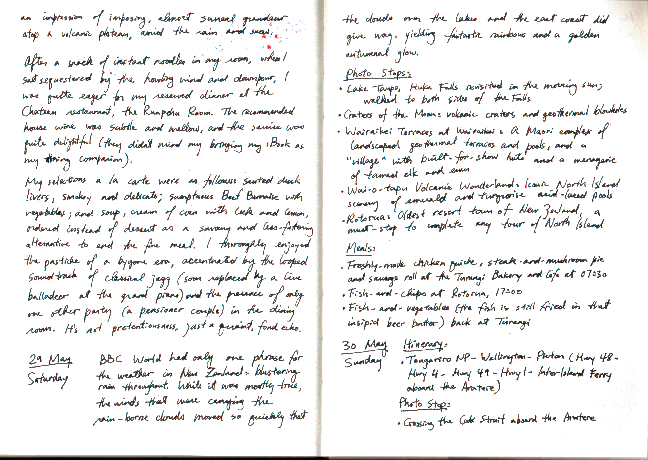 an impression of imposing, almost surreal grandeur atop a volcanic plateau, amid the rain and snow.
After a snack of instant noodles in my room, where I sat sequestered by the howling wind and downpour, I was quite eager for my reserved dinner at the Chateau restaurant, the Ruapehu Room. The recommended house wine was subtle and mellow, and the service was quite delightful (they didnít mind my bringing my iBook as my dining companion).
My selections a la carte were as follows: sauteed duck livers, smoky and delicate; sumptuous Beef Bťarnaise with vegetables; and soup, cream of corn with leek and lemon, ordered instead of dessert as a savoury and less-fattening alternative to end the fine meal. I thoroughly enjoyed the pastiche of a bygone era, accentuated by the looped soundtrack of classical jazz (soon replaced by a live balladeer at the grand piano) and the presence of only one other party (a pensioner couple) in the dining room. Itís not pretentiousness, just a quaint, fond echo.
Saturday 29 May 2004
BBC World had only one phrase for the weather in New Zealand: blustering rain throughout. While it was mostly true, the winds that were carring the rainborne clouds moved so quickly that the clouds over the lakes and the coast did give way, yielding fantastic rainbows and a golden autumnal glow.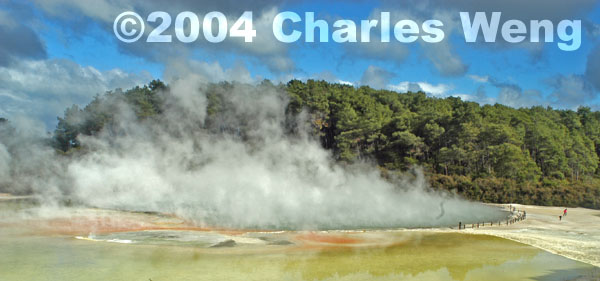 Photo stops:
Craters of the Moon - volcanic craters and geothermic blowholes
Wairaikei Terraces at Wairaikei - A Maori complex of landscaped geothermal terraces and pools, and a "village" with built-for-show huts and a menagerie of tamed elk and emu
Wai-O-Tapu Volcanic Wonderland - Iconic North Island scenery of emerald and turquoise pools
Rotorua - Oldest resort town of New Zealand, a must-stop to complete any tour of North Island
Meals:
Freshly made chicken quiche, steak-and-mushroom pie and sausage roll at the Turangi Bakery and Cafe at 7:30 am
Fish-and-Chips at Rotorua, 5:00 pm
Fish-and-Vegetables (the fish is still fried in that insipid beer batter) back at Turangi
Sunday 30 May 2004
Itinerary:
Tongoriro NP - Wellington - Picton (Hwy 48 - Hwy 4 - Hwy 49 - Hwy 1 - InterIsland Ferry aboard the Aratere)
Photo Stop:
Crossing the Cook Strait aboard the Aratere
New Zealand (November 2004) 73-74 75-76 77-78 79-80 81-82