Journal: Pages 69-70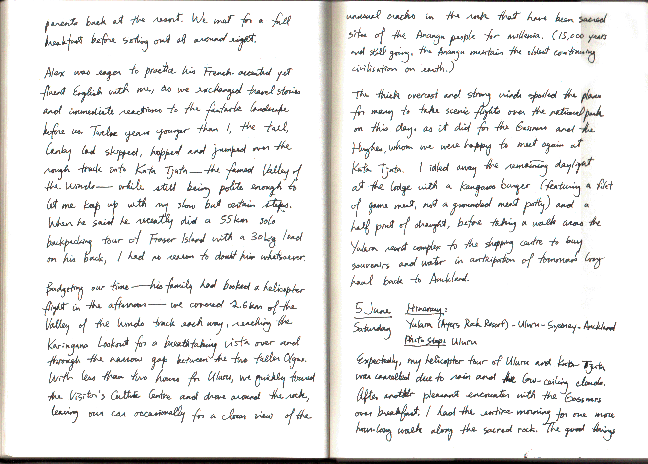 parents back at the resort. We met for a full breakfast before starting out at around eight.
| | | |
| --- | --- | --- |
| | | Alex was eager to practice his French-accented but fluent English with me, as we exchanged travel stories and immediate reactions to the fantastic landscape before us. Twelve years younger than I, the tall, lanky lad skipped, hopped and jumped over the rough track into the Kata Tjuta -- the famed Valley of the Winds -- like a gazelle on two legs, while I kept up with my slow but certain steps. When he said he just did a 50km solo backpacking tour of Fraser Island with a 30kg load on his back, I had no reason to doubt him whatsoever. |
Budgeting our time -- his family had booked a helicopter flight in the afternoon -- we covered 2.6km of the Valley of the Winds track, reaching the Karingana Lookout for a breathtaking vista over and through the narrow gap between the two taller Olgas. With less than two hours for Uluru, we quickly toured the Visitor Centre and drove around the rock, leaving the car occasionally for a closer view of the unusual cracks in the rock that have been sacred sites of the Anangu people for millennia.
| | | |
| --- | --- | --- |
| | | The thick overcast and strong winds spoiled the plans for many to take scenic flights over the national park on this day, as it did for the Gassners and the Hughes, whom we were happy to meet again at Kata Tjuta. I idled away the remaining daylight at the lodge with a kangaroo burger (featuring a filet of game meat, not a grounded meat patty) and a half pint of drought (draft), before taking a walk across the resort complex to the shopping centre to buy souvenirs and water in anticipation of tomorrow's long haul back to Auckland. |
Saturday 5 June 2004

Itinerary:

Yulara (Ayers Rock Resort) - Uluru - Sydney - Auckland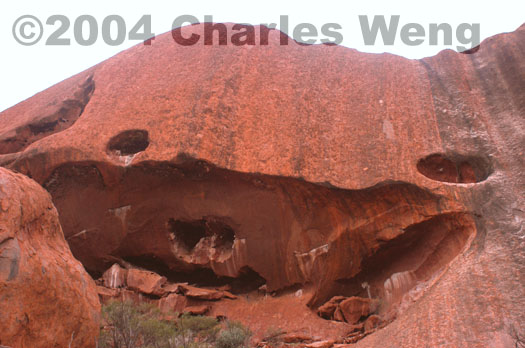 Expectedly, my helicopter tour of Uluru and Kata-Tjuta was cancelled due to rain and the low-ceiling clouds. After another pleasant encounter with the Gassners over breakfast, I had the entire morning for one more hour-long walk along the sacred rock. The good things
New Zealand (November 2004) 73-74 75-76 77-78 79-80 81-82