Journal: Pages 3-4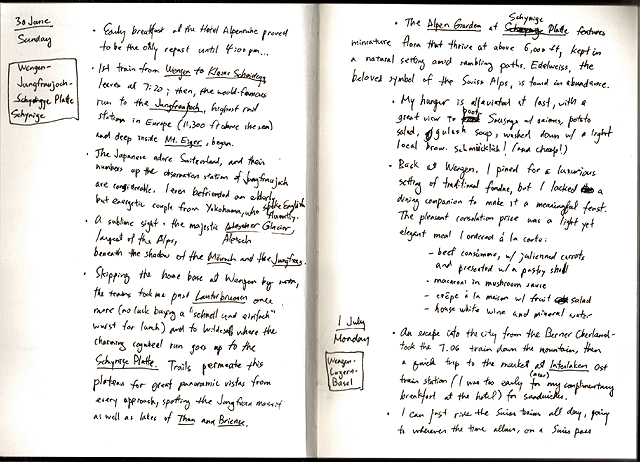 30th June, Sunday: Wengen - Jungfraujoch - Schynige Platte
Early breakfast at the Hotel Alpenruhe proved to be the only repast until 4:00 pm...
1st train from Wengen to Kleine Scheidegg leaves at 7:20; then, the world-famous run to the Jungfraujoch, highest rail station in Europe (11,300 ft above the sea) and deep inside Mt Eiger, began.
The Japanese adore Switzerland, and their numbers up the observation station of Jungfraujoch are considerable. I even befriended an elderly but energetic couple from Yokohama, who spoke English fluently.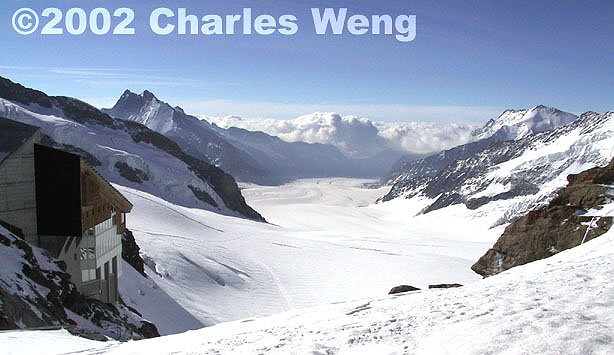 A sublime sight: the majestic Aletsch Glacier, largest of the Alps, beneath the shadow of the Mönsch and the Jungfrau.
| | | |
| --- | --- | --- |
| | | Skipping the home base at Wengen by noon, the trains took me past Lauterbrünnen once more (no luck buying a "schnell und einfach" Würst for lunch) and to Wildeswil, where the charming cogwheel run goes to the Schynige Platte. Trails permeate this plateau for great panoramic vistas from every approach, spotting the Jungfrau massif as well as lakes of Thun and Brienze. |
The Alpen Garden at Schynige Platte features miniature flora that thrive at above 6,000 ft, kept in a natural setting amid rambling paths. Edelweiss, the beloved symbol of the Swiss Alps, is found in abundance.
My hunger is alleviated at last, with a great view to boot. Sausage with onions, potato salad, gulash soup, washed down with a light local brew. Schmücklich! (and cheap!)
Back at Wengen, I pined for a luxurious setting of traditional fondue, but I lacked a dining companion to make it a meaningful feast. The pleasant consolation prize was a light yet elegant meal I order á la carte:
- beef consommé, with julienne carrots and presented with a pastry shell
- macaroni in mushroom sauce
- crêpe á la maison with fruit salad
- house white wine and mineral water
1st July, Monday: Wengen - Luzern - Basel
An escape into the city from the Berner Oberland -- took the 7.06 train down the mountain, then a quick trip to the market near the Interlaken Ost train station (I was too early for my complimentary breakfast at the hotel) for sandwiches.
I can just ride the Swiss trains all day, going to wherever the time allows, on a Swiss Pass.
New Zealand (November 2004) 73-74 75-76 77-78 79-80 81-82