Journal: Pages 11-12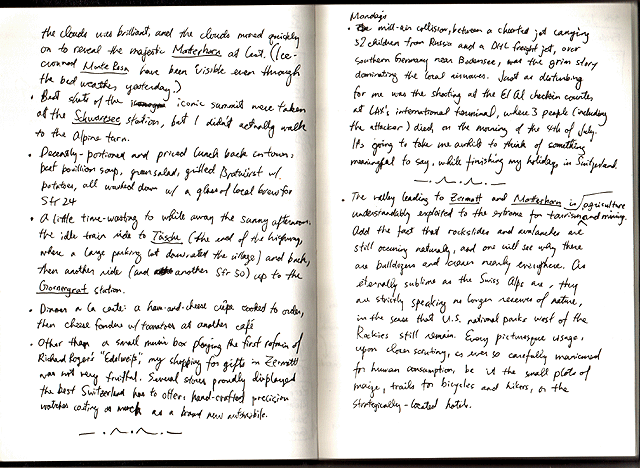 the clouds was brilliant, and the clouds moved quickly on to reveal the majestic Matterhorn at last. (Ice-crowned Monte Rosa has been visible even through the bad weather yesterday.)
Best shots of the iconic summit were taken at the Schwarzsee station, but I didn't actually walk to the Alpine tarn.

Decently-portioned and priced lunch back in town: beef bouillon soup, green salad, grilled Bratwürst with potatoes, all washed down with a glass of local brew for Sfr 24.

A little time-wasting to while away the sunny afternoon: the idle train ride to Täsche (the end of the highway, where a large parking lot dominated the village) and back, then another ride (and another Sfr 50) up to the Gornergrat station.

Dinner á la carte: a ham-and-cheese crêpe cooked to order, then cheese fondue with tomatoes at another café.

Other than a small music box playing the first refrain of Richard Roger's "Edelweiss," my shopping for gifts in Zermatt was not very fruitful. Several stores proudly displayed the best Switzerland has to offer: hand-crafted precision watches costing as much as a brand new automobile.
Monday's mid-air collision, between a chartered jet carrying 52 children from Russia and a DHL freight jet, over southern Germany near Bodensee, was the grim story dominating the local airwaves. Just as disturbing for me was the shooting at the El Al check-in counter at LAX's international terminal, where 3 people (including the attacker) died, on the morning of the 4th of July. It's going to take me awhile to think of something meaningful to say, while finishing my holidays in Switzerland.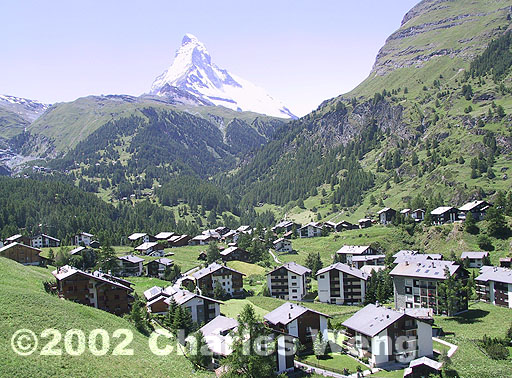 The valley leading to Zermatt and Matterhorn is understandably exploited to the extreme for tourism, agriculture and mining. Add the fact that rockslides and avalanches are still occurring naturally, and one will see why there are bulldozers and cranes nearly everywhere. As eternally sublime as the Swiss Alps are, they are strictly speaking no longer reserves of nature, in the sense that U.S. national parks west of the Rockies still remain. Every picturesque visage, upon closer scrutiny, is ever so carefully manicured for human consumption, be it the small plots of maize, trails for bicycles and hikers, or the strategically-located hotels.
New Zealand (November 2004) 73-74 75-76 77-78 79-80 81-82