Journal: Pages 65-66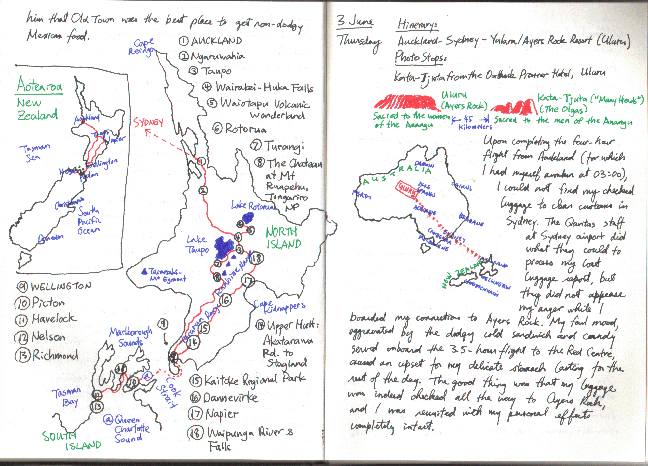 him that Old Town was the best place to get non-dodgy Mexican food.
5. Waiotapu Volcanic Wonderland

8. The Chateau at Mt Ruapehu, Rongariro NP

14. Upper Hutt: Akatarawa Rd. to Stagland

15. Kaitoke Regional Park

18. Waipunga River & Falls
Thursday 3 June 2004

Itinerary:

Auckland - Sydney - Yulara/Ayers Rock (Uluru)

Photo stop:

Uluru (Ayers Rock): Sacred to the women of the Anangu

Kata-Tjuta ("Many Heads," The Olgas): Sacred to the men of the Anangu
Upon completing the four-hour flight from Auckland (for which I had myself awaken at 3:00 am), I could not find my checked luggage to clear customs. The Qantas staff at Sydney airport did what they could to process my lost luggage report, but they did not appease my anger while I boarded my connection to Ayers Rock. My foul mood, aggravated by the dodgy cold sandwich and candy served onboard the 3.5-hours flight to the Red Centre, caused an upset for my delicate stomach lasting for the rest of the day. The good thing was that my luggage was indeed checked all the way to Ayers Rock, and I was reunited with my personal effects completely intact.
New Zealand (November 2004) 73-74 75-76 77-78 79-80 81-82