Everything closed down early on Sunday. In rural Olderdalen -- facing the petite Strupbreen (Strup glacier) and receiving ferry passengers from the regional capital of Tromsų -- I scavenged for my dinner at the local gas/petrol station around 19:00, where the ubiquitous hot dog roller-grill was already being shut down for cleaning. My find: one pack of Scandinavian crisp bread, and a tube of processed fish spread ("kaviar") to add a little flavor. In this sorry contrast, the remaining Sicilian cherry tomatoes I bought back in Bodų were true delicacies indeed.
26 May 2003, Monday: Olderdalen - Alta - Skįidi
Reindeer! A small buck deftly dodged me in the middle of E6, the Polar Highway -- one of Europe's favorite tour routes. The herds here in the coastal far north have yet to shed their white winter coats; even the young bucks' maturing horns look frosty.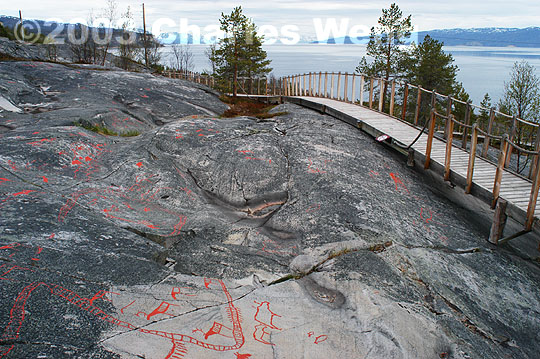 Six- to two-millennia-old prehistoric stone carvings found in Alta were once either neglected or chipped away for private collections. Now a 2km long boardwalk path is built for unfettered yet protective access of this UNESCO world heritage site. The Alta Museum serves as the base of this short hike and also documents the life of the indigenous Sami people from time immemorial to the present day, as well as giving an obligatory history lesson of how this region was all but wiped out during WWII. The path itself is the museum's main attraction in its own right, as it artfully meanders through woods, around marshes and rocks -- some carved, some not -- and along the southern panoramic view of the splendid Altafjord.
Hunger is no longer an inconvenience. With my groceries from Alta, I treated myself to a generous roadside picnic -- bbq chicken drumsticks (not very well made but hey, it's supermarket cuisine), fish cakes (Norwegian specialty), pickled herring, smoked salmon (lox), bread, juice -- before pushing onward through the brown-and-white mess of a landscape that is Finnmark in thaw.