Journal: Pages 19-20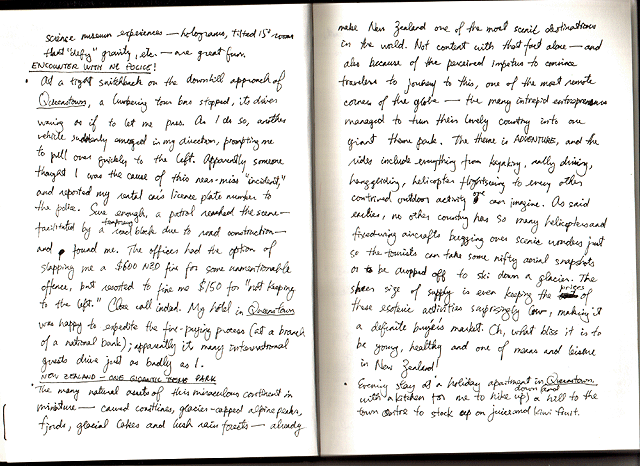 science museum experiences -- holograms, tilted 15-degree rooms that "defy" gravity, etc. -- are great fun.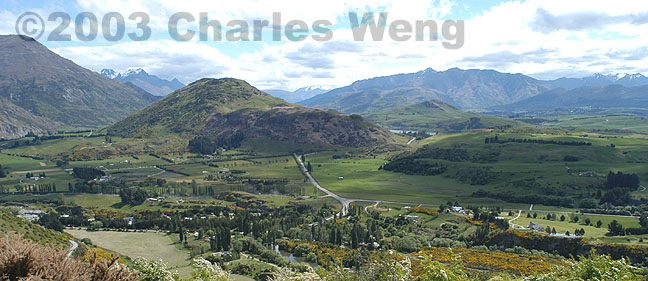 ENCOUNTER WITH NZ POLICE!
At a tight switchback on the downhill approach of Queenstown, a lumbering tour bus stopped, its driver waving as if to let me pass. As I do so, another vehicle suddenly emerged in my direction, prompting me to pull over quickly to the left. Apparently someone thought I was the cause of this near-miss "incident," and reported my rental car's licence plate number to the police. Sure enough, a patrol reached the scene -- facilitated by a temporary roadblock due to road construction -- and found me. The officer had the option of slapping me a $600 NZD fine for some unmentionable offence, but resorted to fine me $150 for "not keeping to the left." Close call indeed. My hotel in Queenstown was happy to expedite the fine-paying process (at a branch of a national bank); apparently its many international guests drive just as badly as I.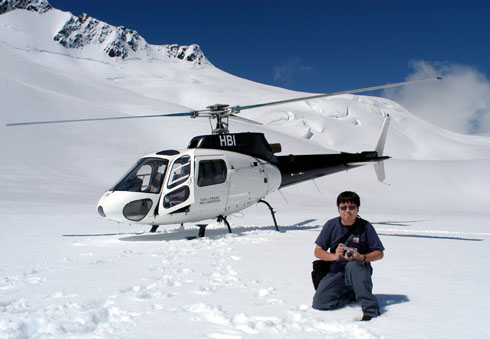 NEW ZEALAND - ONE GIGANTIC THEME PARK
The many natural assets of this miraculous continent in miniature -- carved coastlines, glacier-capped alpine peaks, fjords, glacial lakes and lush rain forests -- already make New Zealand one of the most scenic destinations in the world. Not content with that fact alone -- and also because of the perceived impetus to convince travelers to journey to this, one of the most remote corners of the globe -- the many intrepid entrepreneurs managed to turn their lovely country into one giant theme park. The theme is ADVENTURE, and the rides include everything from kayaking, rally driving, hang gliding, helicopter flight-seeing to every other contrived outdoor activity one can imagine. As said earlier, no other country has so many helicopters and fixed-wing aircrafts buzzing over scenic wonders just so the tourists can take some nifty aerial snapshots or be dropped off to ski down a glacier. The sheer size of supply is even keeping the prices of these esoteric activities surprisingly low, making it a definite buyer's market. Oh, what bliss it is to be young, healthy and one of means and leisure in New Zealand!
Evening stay at a holiday apartment in Queenstown, with a kitchen for me to hike down (and up) a hill to the town centre to stock up on juice and kiwi fruit.
New Zealand (November 2004) 73-74 75-76 77-78 79-80 81-82