Switzerland
November 1999, July 2000, July 2002, November 2003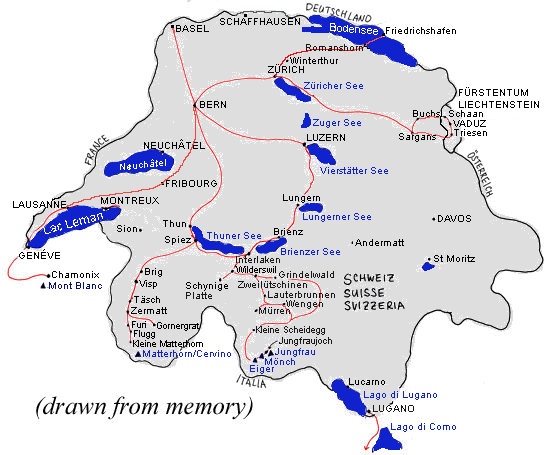 The Heart of Europe -- David Hockney first traversed the Swiss Alps at the back seat of a cramped car. When he painted his impressions from that trip, the majestic Alpine peaks were reduced to a kid's doodle.
It wasn't that much different for me back in 1988. From Milan, my train sped past Lugano by dusk; the only mental image left in me now was of the clean streets that stretched beyond the open platforms at Lausanne. I had to make it to Paris that night from Lyon, aboard the TGV for which I couldn't even get a seat -- someone was charitable for me to occupy his while he went off to get a drink, after which I had to take his place at the smoke-filled bar.
Beautiful, charming and expensive Switzerland -- the prima donna of European states -- kept drawing me back no matter what other nearby destination I had in mind.
On Thanksgiving 1999, in Geneva, I celebrated this American holiday with the hospitality of Portuguese and Iranian immigrants who opened their eateries near the Cornavin train station.
The following summer, while touring Lake Como in a green Opel I almost wrecked near Bellagio, I stayed for lunch at Lugano, relishing the fact that I could order a Bratwurst in Italian.
Had Hockney seen the Jungfrau the way I did in the summer of 2002 -- walking four miles from Kleine Scheidegg to Wengen, past meadows in spring bloom, glaciers, brooks, dense fir forests and bell-ringing cows -- his impressions would have been something else. Then again, he was never a landscape photographer.
I reprised much of this trip just one year later, in late autumn. This was my father's first time in Switzerland, and I was to be at his side to explain, without saying so many words, why I've been coming back time after time.
Gear - Nikon F100 with f/2.8 20mm and f/2.8 70mm macro lenses, Canon G1 digital, Nikon D100 digital with f/2.8 20mm

Base - Hotel Alpenruhe (Wengen), Hotel Daniela (Zermatt), Alexander Guesthouse (Zürich)