Berner Oberland, Switzerland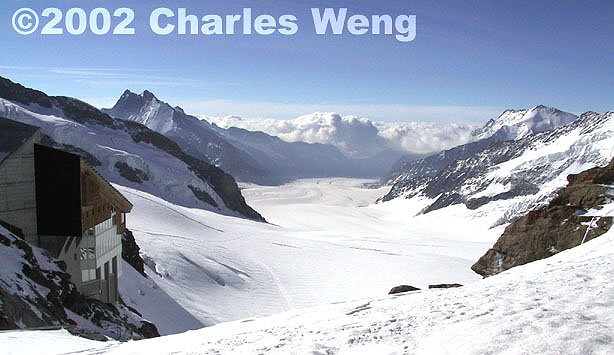 Alestch Glacier -- The largest glacier of the Alps is seen here near the Jungfraujoch observatory, at 3475m (11398 ft) above the sea. The observatory building, called Sphinx because its profile resembles that of the famed monument at Giza, is reached by cogwheel train that runs straight into the Jungfrau's two companion peaks, the Eiger and the Mönsch. The rapid ascent from Kleine Scheidegg to the rarefied air of Jungfraujoch deep inside Mount Eiger is, quite literally, breathtaking.
Like almost every other glacier on earth, the Alestch is also retreating due to global warming, but it's hard to see that beneath constant coatings of fresh snow.
This photo is taken with the Canon G1 digital camera.