Florence, Italy

12th-14th July 2000
The City of Dreams Reborn -- In the last montage of his cinematic homage to Rome, Fellini shot a late-night carousel of bikers around the Coliseum. When I saw this not too long ago, I was immediately reminded of my own lasting impression twelve years ago, of a town I loved perhaps even more: hordes of Vespa riders buzzing around the Duomo, and along the River Arno.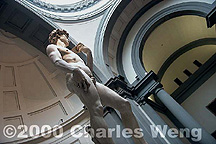 Leaving my car in an unseen garage, I treaded the cobbled streets of the Medicis, of Dante, Da Vinci, Michelangelo, Botticelli, Titian and Brunelleschi, just as I did in 1988. Several pilgrimages were in order: I was to scale the heights of the Cathedral (this time I climbed the bell tower, and not the dome itself), to venerate Venus as she rises from the sea and holds her court in the garden of perpetual spring, and to behold David proclaiming the perfection of the human form.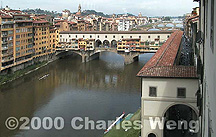 Florence delights more senses than one. At night, from the Ponte Vecchio, up the Galleria Uffizi, throughout the Piazza della Signoria and the Via del Calzaiuoli, one hears haunting violin chords, a suave jazz trio, a clown dancing to Pena and a spontaneous chorus of "American Pie" from a group of inebriated students. At the open-street cafes, the urbane fare never loses its hearty, rustic Tuscan heritage: antipasto with prosciutto and beans, zesty spaghetti scoglia, and succulent steak marinated in Chianti and served al sangue. Don't bother ordering the dessert, since the delectable gelati stand at every ancient city block opens until 1:00 am.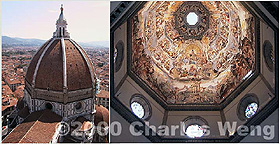 Now, as it has been for the past twelve years, I can close my eyes and still see the orange rooftops of this beloved city of the Renaissance, this cradle of dreams come, gone and forever reborn.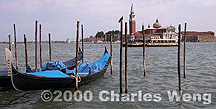 Click here for a glimpse of northern Italy's other bejeweled spots: Lake Como, Milan, Pisa and Venice.
Gear - Leica M6 TTL (Summicron 35mm f2, Elmarit 90mm f2.8), Canon Pro70 digital

Base - Hotel Brunelleschi, 200m from the Duomo