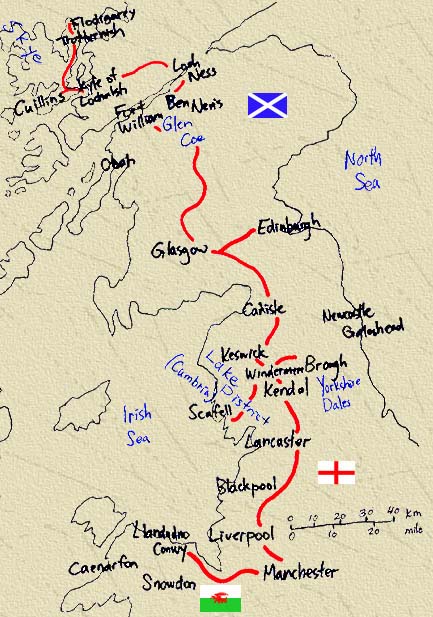 Repast along the way was classic British fare: bacon, toast and tea for breakfast, fish-n-chips for lunch and tandoori for dinner, give or take a few servings of foie gras at an upscale inn in Cumbria, and the hearty haggis at several a Scottish road stop.
Unthinkable luck prevailed: sunshine and no rain over the Cuillins of Skye.
Three impressions I shall not forget. There were the coy "you again" from the maître d'hôtel at the Wild Boar Inn, Crook-at-Windermere; the bagpipe serenades at the Flodigarry Guest House as I tried to digest beef, pork, lamb and game; and the Punjabi take-away at Altricham, where the owners and I watched what was apparently an exotic television programme for my hosts -- a documentary on Joshua Tree National Park, just two hours away from my home in San Gabriel, California.
The narrow, winding roads, the green rolling hills, the rocky crags, the gray pall -- they felt heartwarmingly familiar.