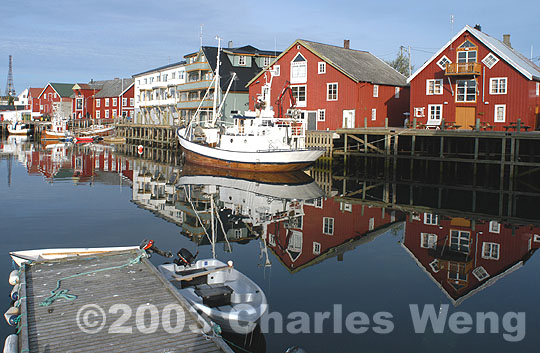 Heart of the Lofoten -- This picturesque fishing village has long been bloated into town-size by tourism, as it is a popular detour on the King Olav's Highway (the E10) between the ports of Stamsund and Svolvær along the sharp, jagged precipices of the Lofoten archipelago. In winter, commercial fishermen gather to hang their catch, the prized -- and perilously overfished -- North Atlantic cod, on large wooden racks, where it dries for several weeks to become stockfish.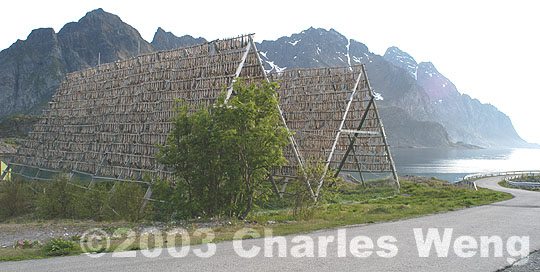 While the Canadian and British fishermen have all but exhausted the cod in their waters, the Norwegians are still counting their fortunes, as their source migrates annually from the remote Barents Sea to spawn within the confines of the strait between the Lofoten and the mainland, the Vestfjorden. Indeed, they are presently observing strict, and ever shrinking, quotas to preserve a lifestyle that has persisted since the Viking days.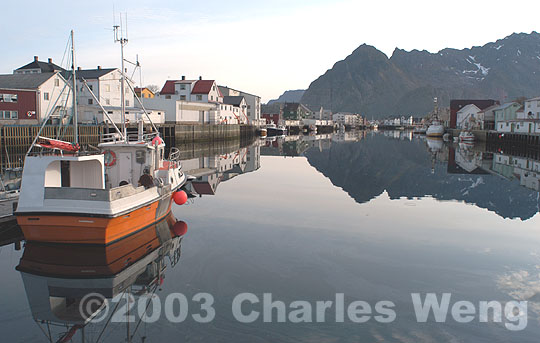 These photos are taken with the Nikon D100 and the Nikon 20mm f/2.8 lens.