Antelope Valley, California
The desert blushes -- In the late 1700s, the Spanish described "rivers of gold" that flowed 25 miles all the way towards the ocean. Today, the spring blooming of California poppies is confined to sparse pockets of desert meadows and ranches, which are ever being encroached upon by agriculture, industry and the suburban sprawl.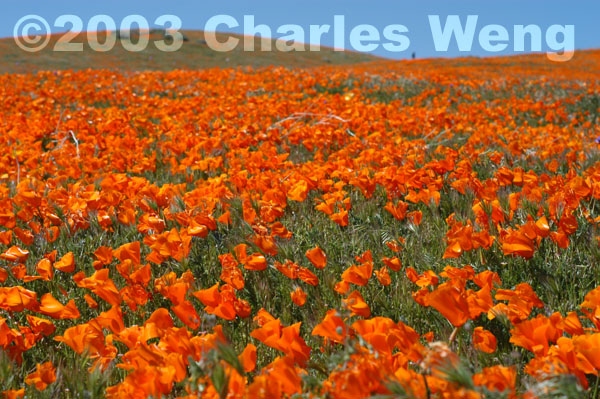 1800 acres of this rolling landscape in the Antelope Valley are now set aside as the California Poppies Reserve. This state park is easily accessible from Los Angeles: it is but an hour-long drive on the Interstate 14 over the San Gabriel Mountains, then 11 miles west of Lancaster.
The desert blooming is, by nature, precarious and ephemeral. When there is sufficient rainfall from January to March, good "crops" of orange poppies (as well as yellow goldfields, violet lacy phacelias and many other flora) can occur here, the Joshua Tree National Park to the east, and the Anza-Borrego State Park to the south, for a duration of no more than a month. Thousands of visitors converge to feast upon these wondrous sights.

These images are taken with the Nikon D100 digital SLR with the Nikon 60mm f/2.8 D micro lens.

Sites concerning the California Poppies: