Knivskjellodden at Nordkapp, Norway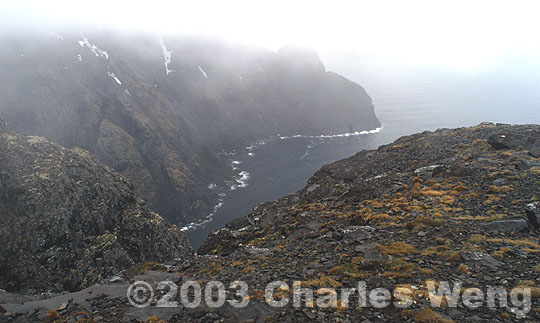 The North Cape -- "Conspiracy" is the word used in The Rough Guide to describe this spot, and quite aptly. While Nordkapp is touted as the northernmost point of Europe (71° 10' 21"), Knivskjellodden, the undeveloped promontory seen here, is actually 1500 meters further north.
The deception has a historical and pragmatic premise. The broad, flat cliff top at Nordkapp was the site of pagan Sami sacrificial rites, and was visited by the Norwegian and Thai monarchs with great fanfare. It lends itself very readily to the construction of a huge car park, toll station and visitor centre.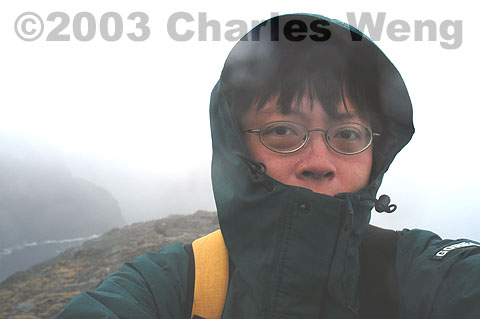 Arriving early in the thick fog and rain, I was rather glad to have skipped them all.
It is indeed fitting that adventurous trekkers will tackle the difficult, though well-marked, path to earn the distinction of standing upon the true northernmost point of Europe, left mercifully alone by the bulldozers, toll-collectors, souvenir hawkers and tour coaches.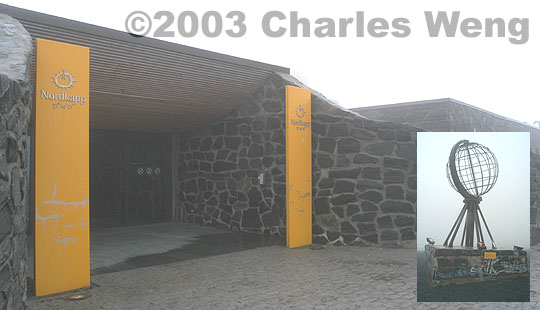 Or is it really? Hop on a Widerøe or SAS flight for the Svalvard archipelago, and you will be 640 km further north of this tourist trap, and 1300 km from the North Pole itself.
These photos are taken with the Nikon D100 digital SLR with the Nikon 20mm f/2.8 D lens.