Catlins Forest, New Zealand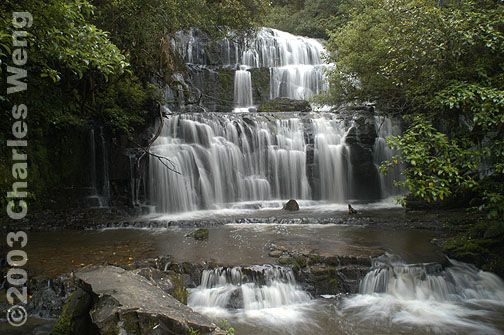 Purakaunui Falls -- In absence of a tripod, I conveniently laid down my raincoat over the flat wooden railing at the viewing point, where my two cameras can then be placed to make a long exposure.
The digital camera was still set to long exposure when I asked a fellow tourist to take this "I was there" shot; his steady hands prevailed. The Leica M6 with a Summicron 35mm f/2 aspherical lens in mine commanded some respect amongst knowledgeable snapshooters, but I privately knew that my bumbling, haphazard ways did not always achieve results worthy of such high-calibre optics.
These photos are taken with the Nikon D100 digital SLR and the Nikon f/2.8 20mm D lens.