Milford Sound, New Zealand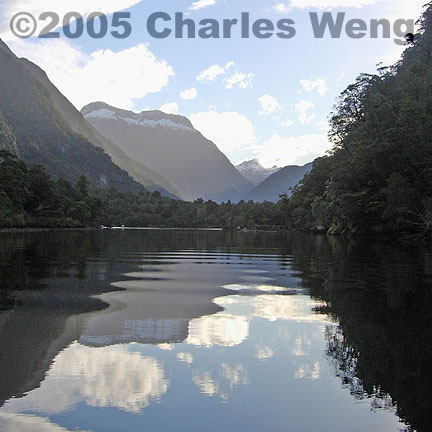 Sandfly Point -- This is another instance of the Kiwis' appreciation for the obvious: the place is indeed swarming with sandflies, buzzing harmlessly over the heads of all passersby. It's the biting mosquitoes that one should take measures against -- bring your Deet here!
There is more to this place than insects, though. It is the official finish line of the 58.4 km (36.5 mile) Milford Track, one of the most famous hiking trails in the entire world, and certainly the most popular of all New Zealand. Without booking at least six months ahead, either with the Department of Conservation ("Doc") or a guided walk company, the most one can do is to spend a few hours here, courtesy of skipper Denis of the MV Friendship, or at the beginning of the track along the Clinton River just north of Lake Te Anau.
At the nearby wharf, trampers wait either for the scheduled ferry, or a prearranged kayak to paddle to the visitor centre.
This photo was taken with a Nikon CoolPix 5200 set at 7.8mm.