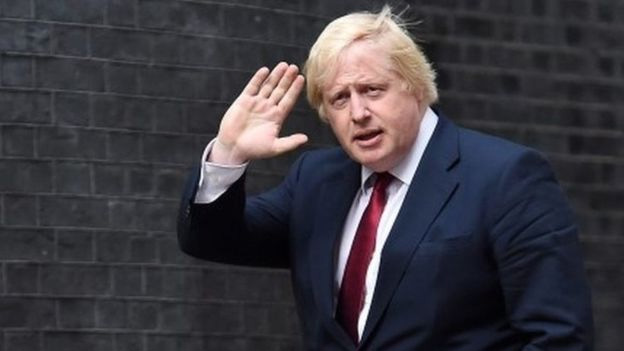 13 July 2016: Boris Johnson, newly appointed as Foreign Secretary, reported to 10 Downing Street. (European Pressphoto Agency)
Boris Johnson, the John Falstaff of Diplomacy
When victories of nations are won not by generals but diplomats, every word they speak is subtle and nuanced, to such an extent that experts are required to interpret its meaning for the laymen.
Boris Johnson was no diplomat. He was a provocateur, inclined to make outrageous comments to foster a comic, larger-than-life persona, which also happened to sell the tabloids for which he contributed as a columnist.
Here are some of his words:
On Hillary Clinton as a prospective presidential candidate:
"She's got dyed blonde hair and pouty lips, and a steely blue stare, like a sadistic nurse in a mental hospital." (Daily Telegraph, November 2007)
On Barack Obama, upon the observation that a bust of Winston Churchill was removed from the Oval Office during a visit by David Cameron:
"Some said it was a snub to Britain. Some said it was a symbol of the part-Kenyan President's ancestral dislike of the British empire – of which Churchill had been such a fervent defender." (The Sun, 22 April 2016)
On the European Union, of which his advocacy to leave was plainly regarded as a vehicle of becoming Britain's next prime minister:
"Napoleon, Hitler, various people tried this out, and it ends tragically. The E.U. is an attempt to do this by different methods." (interview with The Sunday Telegraph, 15 May 2016)
On Turkey's president Recep Erdogan, who pushed for the prosecution of a German satirist for offending him:
There was a young fellow from Ankara
Who was a terrific wankerer
Till he sowed his wild oats
With the help of a goat
But he didn't even stop to thankera.
(The Spectator, 18 May 2016)
To be fair, Johnson's verbal antics were always dismissed as sophomoric pranks, with little political blowback. After all, he made much of it as the mayor of London, a mostly ceremonial position created in recent history to promote the city as a prime destination of investment and tourism. He was after the world's attention, whether its reaction was a chuckle or a groan.
Johnson might have been a village idiot, but he played the role brilliantly, in a highly decorous and conforming culture where eccentricity, however asinine, is an asset.
Now he serves at Theresa May's pleasure as Foreign Secretary. The new prime minister, who does not yet have a democratic mandate from the electorate, has appointed Johnson as part of her commitment to honor the result of the June 23 referendum.
It was a shrewd decision. Brexit is now a fact, whether Europe and the rest of the world like it or not. May has created a new cabinet position, the Secretary of Exiting the European Union, to oversee the delicate process of negotiating with European leaders, and extricating decades of European regulations written into British laws. Meanwhile, Johnson can continue to do what he does best, making noise and drawing attention to the Brexit cause, whilst holding his own political ambition in check.
If Johnson is still to be criticized for his lack of experience, recent events will put an end to that. Just two days into the job, he is already addressing two international crises: the terrorist attack in Nice on Bastille Day, and a coup attempt in Turkey less than twenty-four hours later. Suffice to say, his reaction has been much more measured and tactful.
-- CW, 14 and 15 July 2016