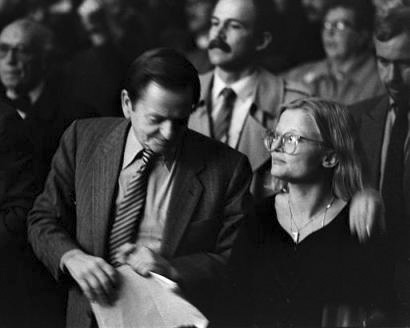 In this photograph from 1984, Swedish Prime Minister Olof Palme is seen with fellow Social Democrat Anna Lindh, who would become the Foreign Minister in 1998. Well-regarded Palme was shot in 28 February 1986 as he and his wife walked home, with no bodyguards, from a movie theater in central Stockholm. On 10 September 2003 Lindh, the immensely popular no. 3 state official, was stabbed while shopping unguarded at a department store, just a few blocks away from where her colleague died seventeen years ago. (AP/Pressens Bild photo by Lars Jansson)
Tragedy in Stockholm
This won't be a normal tribute; the occasion does not call for one. I will start with a bit of banal free-association.
Late at night, I was sitting in my new desk I purchased from IKEA, which I hauled back home and assembled with my sister at considerable effort (but with significant savings). What, I asked myself, would be the first of the many online projects I would do at my sleek, efficient workstation of Scandinavian design? Yet another observance of the second anniversary of the 9-11 attacks, perhaps?
I then browsed the Net, and learned of the murder of Anna Lindh.
No.
She was still conscious immediately after the attack. Last time I checked, the doctors said she was in "critical but stable" condition. I expected her to survive. Her entire country did.
My thoughts turned to the recent death of UN Envoy Sergio Vieira de Mello in Baghdad. Like Lindh, he was also alive shortly after the attack, even making phone calls from his crumbling office. Both had worked so hard for peace and progress -- both were never advocates of war. Both would succumb to the sort of inexplicable evil that preyed on the innocent, the vulnerable and the unsuspecting.
Looking forlornly down at my IKEA desk, I desperately wanted it to be something, anything I can hold onto as a working symbol of all that Anna had personified: a pragmatic, accessible and enlightened way of life, one that many others would be so envious as to take it away by the basest of means.
Anna struck me as someone I could have easily befriended in Sweden during the past two years. Here are some impressions of the people I did meet:
On 9 April, 2001, Anna Lindh spoke at a gathering of EU foreign ministers, during a year in which Sweden held the rotating EU presidency.

Lindh died on 11 September 2003. She is survived by a husband and two children. (AP Photo by Virginia Mayo)

It was a 40-centigrade afternoon at Stockholm's Arlanda Airport. Not breaking a sweat in his long-sleeved white shirt and tie, a Hertz employee about my age -- no, younger -- spent the rest of his long summer day with me on a quest for the last S40 Volvo wagon with automatic transmission. He led me on a hike past the construction sites around the airport, then drove me in his own car to no less than two other Hertz locations until we found one.

At the Swedish National Museum, the sole attendant at the gift shop was determined not to chat with me, her only customer. I thought I could loosen her tongue with an easy conversational piece, the embarrassingly vast collection of ABBA merchandise near her till. All I could get out of her was "Yes, I know 'Mama Mia'* is playing in New York."

In Jukkasjärvi, I spotted a group children playing amid the ruins of the Ice Hotel, which is rebuilt every winter to become the largest igloo in the world. As soon as a 9-year-old girl with a ponytail saw me, she ducked behind a wall of melting ice, and shouted out her English lessons on top of her lungs:

"Hi-my-name-is-Marlene-I-live-in-SVEEEDEN!"
Carefree, proud and steadfast -- these are the traits I frequently observe in Swedish society, long celebrated for its openness and egalitarian spirit. This is a country where elected officials of all levels ride the bus, stand in queue at the cinema, and shop at the local grocery store along with everyone else.
Had I a chance to meet Anna, it would have been just like that -- another everyday moment.
The outspoken, unpretentious diplomat pushed for a more even-handed approach for peace in Israel and Palestine, and frequently criticized the war in Iraq. She died just three days before a referendum on joining the Euro zone, a cause she championed. [Amongst the 81% voter turnout, 56% chose to keep the Krona, making Sweden, Denmark and Britain the three current EU members who have not adopted the common currency. Proponents of the "nei" vote saw their position as a defense of their country's vaunted yet beleaguered cradle-to-grave welfare system, which is presently sustained by an economic growth rate higher, and unemployment rate lower, than the average amongst the Euro nations.]
Things hardly seem to go wrong in prosperous, peaceful and progressive Sweden. When they do, the whole world grieves, and resigns to the fact that an utopia is just that. Since Salvador Allende fell in Santiago and the Twin Towers fell in Manhattan, a certain day in September will now be remembered for yet another tragedy.
CW, 11 September 2003, updated 23 March 2004
*For the record, "Mama Mia" is a musical comedy where performers sing familiar hits of the kitschy 1970s pop group.
Update: On 7 January 2004, prime suspect Mijailo Mijailovic, a 25-year-old naturalized Swede from former Yugoslavia with three former convictions, claimed that "voices in his head" told him to attack Lindh. The identity of the killer was also confirmed via DNA sampling from the murder weapon recovered at the crime scene. The district court of Stockholm sentenced him to life imprisonment on 23 March, 2004.