Uluru, Northern Territory, Australia
The heart of a continent -- Situated in the desert of Australia's Red Centre, Uluru (Ayers Rock) is a cross-section of a subterranean sandstone layer pushed to the earth's surface by tectonic movement, and shaped by erosion. It is sacred to the Anangu people, a monument to their beliefs of the world's creation, which they have maintained via 15,000 years of oral tradition -- the oldest living culture in the world.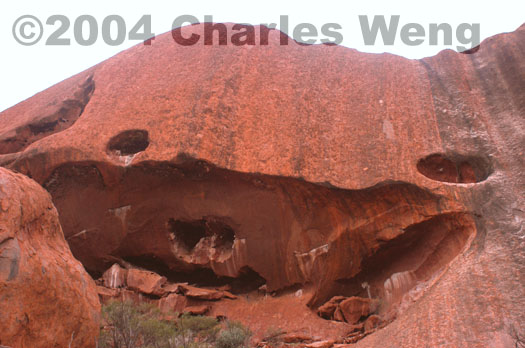 Since the lands surrounding Uluru have been returned to the Anangu in 1985, Uluru-Kata Tjuta National Park has been jointly managed by the native authorities and the Australian National Park Directorate. Utilizing ancient as well as scientific conservation methods (the Anangu had always been burning away overgrowth to renew vegetation and promote wildlife), the park managers now face the daunting task of protecting this delicate ecosystem from foreign predators that have already wiped out several native species, as well as looking after the multitudes of visitors from all over the world.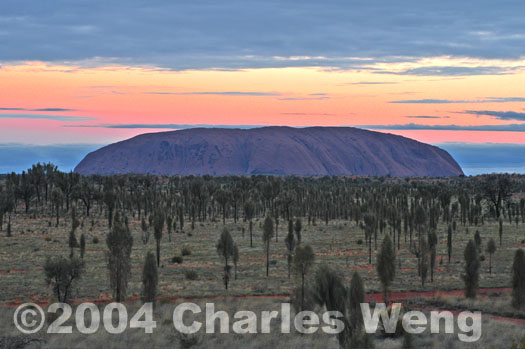 When the sky is clear, the park caretakers politely ask the visitors not to climb Uluru, out of respect for the Anangu people -- even though that is the very thing many have come to do. When rain and high winds are present, the steep climbing path is closed outright. The tourists ought not to be disappointed, though, since the cool, wet weather becomes the perfect protection against the harsh desert sun, allowing a comfortable and leisurely walk around the monolith.
These photos are taken with the Nikon D100 digital camera and Nikon f2.8 20mm lens.