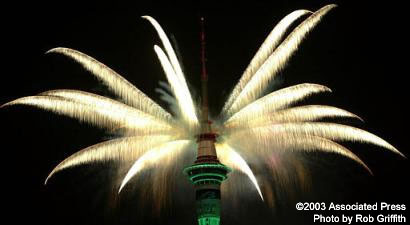 Atop the Sky Tower -- The 328-meter high edifice is a locus of Aucklander nightlife. Below its observation decks (which offer bungee jumping during the day), the "Sky City" complex contains a hotel, casino, theatre, cinema, lounges with live acts, and restaurants that open late.

"Rocky Horror Picture Show" was on during my visit, attracting the usual retinue of revelers in fancy dress.

On midnight of 1st January, 2003, Associated Press photographer Rob Griffith deftly captured the fireworks launched from the Sky Tower. The golden lights in one of these stunning images remind me of the large ferns that proliferate within the temperate rain forests of both the North and South Islands.